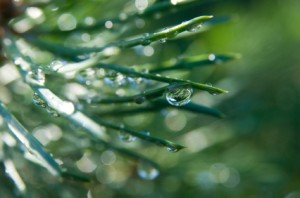 I have a lot of good memories from 27+ years of marriage. I also have a lot of memories that come with a stab—wounds that are slow to heal. But of all the memories made, the ones I treasure most are of Christmas. I think my family would agree, we made only good memories on Christmases past—especially those Christmas mornings when it was just the four of us, our stockings stuffed, a crackling fire in the fireplace, and a pan of homemade cinnamon rolls in the oven.
Even post divorce, that was a tradition we kept.
Until this year.
This morning, as I stood alone in the cold house, looking out at the tears of heaven splashing against the window, my own tears pricked my eyes as my heart ached with the missing of laughter, of delighted squeals from little boys, of a knowing glance between their parents.
Once again, I grieved the brokenness wrought by divorce.
Just as others this season are grieving their own losses.
Even greater losses.
And I wondered…
God, do You understand?
As rain pelted the glass and wind blew through the trees outside, it seemed His answer swirled within me. Yes, I understand.
I thought about that first Christmas when Jesus left the warmth of Mary's womb. Did He cry as He entered our world? What about nine months before when He left His Heavenly home, His Father's side, and descended from a state of omnipotence to embryonic? How did He feel?
And what did God the Father feel as He sent His son? Did He shed tears knowing what Jesus would suffer? Did He feel the stab of loss? Where was the Holy Spirit, the Comforter, during those hours of grief? Was He at the Father's side, in the womb with Jesus, comforting Mary in her pain as she pushed her babe, the King, into the world?
Were there tears from heaven that first Christmas too?
I suspect there were many tears.
Just as I suspect our God has shed many tears this season.
As I wandered out of the kitchen and through the house this morning, I did so with the realization that I am not alone. The Spirit walks beside me, within me, His warmth and comfort surround me. And joy, beyond my understanding, bubbled forth.
God knows my pain.
He knows your pain.
But just as with that first Christmas, I believe pain and joy co-mingle.
"For God so loved the world that He gave His one and only Son, that whoever believes in him shall not perish but have eternal life (John 3:16)."
God gave the Son He loved to save a world He loved.
Pain.
And joy.
Yes, my child, I understand…