First, because I know you're wondering, it's pronounced "Why-trup". 🙂
The opportunity to write is the fulfillment of a life-long dream. Through the tumultuous years of my childhood, I lost myself in the stories I read. There, in the world of fiction, I escaped the trauma I faced and found a place of safety and rest. Now, I'm the one writing stories I hope provide a place of comfort for others.
My debut novel, Words, released in 2011 and set me on the path of writing women's fiction woven around issues many women face, myself included. While Words was loosely based on my childhood and the abuse I endured, not all my novels are inspired by my own life story. Although, I have written about other issues I've struggled with, like body-image and weight (Invisible). Regardless of the issue I'm writing about, I work to identify emotions I've dealt with and then assign those emotions to my characters. As women, we feel things, even if we're thinkers. So I work to make my characters emotionally layered, conflicted, yet infused with hope and sometimes, humor. Just like us.
When I'm not writing, I speak, coach writers, critique manuscripts, make vintage-style jewelry for my Etsy shop, Storied Jewelry, and act as companion and servant to Bear the Entitled Pomeranian.
I love spending time with my two young adult sons, Justin and Jared, my daughter-in-law, Stephanie, or with the small circle of dear friends who enrich my life in so many ways. If I can spend time outdoors or gathered around a food-laden table with those I love, it's even better. 
I'd love an opportunity to get to know you too. Drop me a note at ginny@ginnyyttrup.com and tell me a little about yourself.
Ginny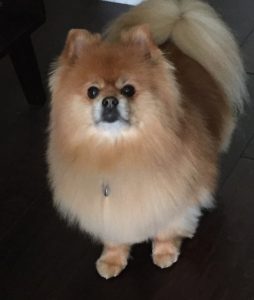 Bear, the entitled Pomeranian.