The Mendocino Village Series
NEW!
Illusion, Book 2
Four women in love. Four fractured romances. Through their friendships with one another, will they uncover the illusion that's keeping them from their hearts' desires?
"Illusion offers wisdom, connection, delight, and encouragement." 
Amazon Review
RT Book Reviews 2013 Inspirational Novel of the Year 
Forword Reviews 2013 Book of the Year – Inspirational Fiction
RT Book Reviews –  4 1/2 Stars Top Pick
"Writers and readers alike have been singing the praises of Ginny L. Yttrup since her debut novel Words. Now I understand what all the excitement is about!"
Liz Curtis Higgs – New York Times Bestselling Author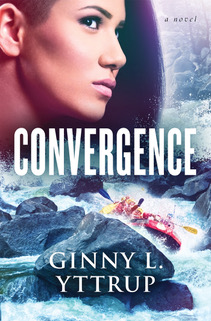 Convergence
 INSPY Awards Shortlist – Suspense
A psychologist paralyzed by fear.
A mother propelled by love.
A stalker bent on destruction.
RT Reviews – 4 1/2 Stars Top Pick
"In Home, Ginny Yttrup uses her own powerful storytelling chops to bring readers into the mind of a struggling novelist—a place where fiction meets reality and where all lines are blurred. This tale is an exploration of relationships, both real and imagined, and leaves the reader pondering what life could be if we dared to write our own story."
Julie Cantrell – New York Times and USA TODAY Bestselling Author
General Market Fiction
"A stellar offering from a gifted author."
RT Reviews
Foreword Reviews 2012 Book of the Year – Religious Fiction
"Yttrup has penned a many faceted novel that challenges the reader to pursue spiritual growth as fully as any self-help book would, making her fiction as inspirational as it is entertaining."
Publishers Weekly
2012 Christy Award – Best First Novel
2012 Christy Award Finalist – Contemporary Standalone
"Yttrup's story is particularly powerful as it in part mirrors her own painful past. Page by page, word by word, this talented author proves the adage 'Write what you know.'"
Publishers Weekly