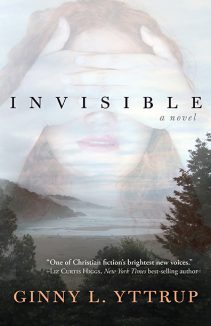 About the Book
Ellyn DeMoss — chef, café owner, and lover of butter — is hiding behind her extra weight. But what is she hiding? While Ellyn sees the good in others, she has only condemnation for herself. So when a handsome widower claims he's attracted to Ellyn, she's certain there's something wrong with him.
Sabina Jackson — tall, slender, and exotic — left her husband, young adult daughters, and a thriving counseling practice to spend a year in Northern California where she says she's come to heal. But it seems to Ellyn that Sabina's doing more hiding than healing. What's she hiding from? Is it God?
Twila Boaz has come out of hiding and is working to gain back the pounds she lost when her only goal was to disappear. When her eating disorder is triggered again, though she longs to hide, she instead follows God and fights for her own survival. But will she succeed?
As these women's lives intertwine, their eyes open to the glory within each of them as they begin to recognize themselves as being created in God's image.
Endorsements
"Writers and readers alike have been signing the praises of Ginny Yttrup since her debut novel Words. Now I understand what all the excitement is about! Her writing is fresh, winsome, and deeply spiritual. Faith isn't merely a thread woven through the story; faith is the fabric upon which Invisible is stitched with a loving hand. Healing and hope can be found among these pages--not only for each character, but for the reader as well. A fine effort from one of Christian fiction's brightest new voices."
– Liz Curtis Higgs
"Ginny Yttrup is one of the new luminous writing stars on the Christian fiction horizon. Her words inspire my spirit and grip my consciousness like few others do. She received the Christy Award for her debut novel Words. Publishers Weekly described her second book, Lost and Found, as inspirational and entertaining. I have the happy privilege of commending her third book, Invisible, as yet another inspiring and riveting story of a woman who learns her dress size does not rule out romantic love. She can cook and eat but can she allow her heart to be fed as well? Her struggle with self-image and the ever-present inner voice of condemnation is a recognizable battle we all wage against the hurtful messages from our past. You will be encouraged, entertained and energized by the message of Invisible."
– Marilyn Meburg
Disclosure of Material Connection: Some of the links in the page above are "affiliate links." This means if you click on the link and purchase the item, I will receive an affiliate commission. I am disclosing this in accordance with the Federal Trade Commission's
16 CFR, Part 255
: "Guides Concerning the Use of Endorsements and Testimonials in Advertising."