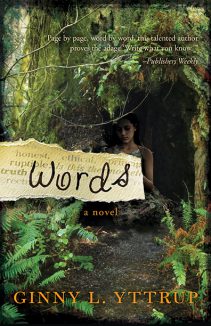 About the Book
Get Words FREE when you subscribe to my newsletter!
"I collect words. I keep them in a box in my mind. I'd like to keep them in a real box, something pretty, maybe a shoe box covered with flowered wrapping paper. Whenever I wanted, I'd open the box and pick up the papers, reading and feeling the words all at once. Then I could hide the box. But the words are safer in my mind. There, he can't take them."
Ten-year old Kaylee Wren doesn't speak. Not since her drug-addled mother walked away, leaving her in a remote cabin nestled in the towering redwoods-in the care of a man who is as dangerous as he is evil. With silence her only refuge, Kaylee collects words she might never speak from the only memento her mother left behind: a dictionary.
Sierra Dawn is thirty-four, an artist, and alone. She has allowed the shame of her past to silence her present hopes and chooses to bury her pain by trying to control her circumstances. But on the twelfth anniversary of her daughter's death, Sierra's control begins to crumble as the God of her childhood woos her back to Himself.
Brought together by Divine design, Kaylee and Sierra will discover together the healing mercy of the Word-Jesus Christ.
Disclosure of Material Connection: Some of the links in the page above are "affiliate links." This means if you click on the link and purchase the item, I will receive an affiliate commission. I am disclosing this in accordance with the Federal Trade Commission's
16 CFR, Part 255
: "Guides Concerning the Use of Endorsements and Testimonials in Advertising."