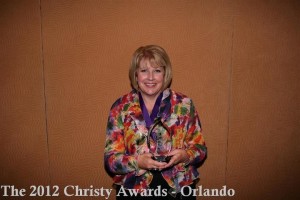 I'm in the midst of a season where I feel like all I say to God is, "Really?" While the question is the same, the tone, I confess, changes. Sometimes it's laced with saracasm as in, "Really, God? You're kidding, right?" Other times it's asked in awe. The picture above reflects one of those moments this summer when, with wonder and humility, I said to God, "Really?" My book, Words, was a Christy Award double-finalist, and won the Christy for Best Debut Novel. I was awed. But, even following moments like that, I still utter the occassional, "Really, God? You're kidding, right?" It saddens my heart to admit this truth… 
Last month, after struggling through multiple surgeries the past year, odd diagnoses, fatigue, and frustration, I returned home from a weekend retreat…sick. And with blood pressure numbers soaring skyward. Throughout the year, I'd had moments where I questioned God, but not with sarcasm or anger. But as a call to my doctor led to one appointment, and then another, and another, I broke.
"Really? You're serious?" With chocking tears, I slung my question not only at God, but also to my spiritual mentor and friend, James. During our conversation, James' reminded me that my relationship with God has never been marked by ease. In fact, it is through the struggles and suffering that a deep and abiding intimacy with God has developed.
An intimacy I wouldn't trade for anything. Not good health or pain-free living. It is the pain, both emotional and physical, that have shattered my shell of pretense with God and made my relationship with Him real.
God is my friend, and I believe I am His friend. And in those moments, which are becoming rare, when I shoot my sarcasm in God's direction, He loves me still. 
He loves me.
With wonder and humility, I ask Him again, "Really?"
Yes, really.
What about you? Have your conversations with God included the same question? What's your tone?