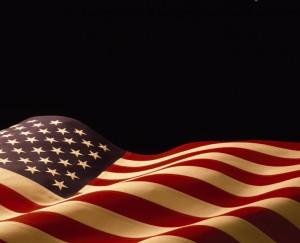 On the weekend our country celebrates its freedom, I'm considering the "cost of freedom." It's a phrase that, as Americans, we often associate with democracy and the high price so many have paid to ensure our continued freedom. Or, as Christians, perhaps the phrase brings to mind the price Christ paid–his life–for our freedom from sin and death.
I confess, as both a citizen and a Christian, I often take my freedom for granted. Personally, I'm embarrassed to admit, it hasn't cost me much.
But recently, as my life has taken some unexpected turns, God's showing me that not only does freedom come at a cost, but we also have to learn how to live in freedom.
Paul understood this and penned a reminder to the Galatians–and us:
It is for freedom that Christ has set us free. Stand firm, then, and do not let yourselves be burdened again by a yoke of slavery.

Galatians 5:1
As humans, we return to what's familiar. We're most comfortable with the known–even when the known is painful. Moses led the Israelites out of slavery. But after a short time of wandering in the unknown, they were ready to return to what they knew–even though what they knew was bondage. Paul led the Galatians out from under the law and introduced them to the freedom found in Jesus Christ. But soon, the people were looking back longingly to the law that kept them enslaved. They knew how to live under the law. Freedom? That was unknown.
In my personal life, I'm paying a high price for freedom in several areas. Perhaps the most tangible is physically. After major back surgery two years ago, I had to learn to walk a new way–each step was intentional and painful. Now, I'm finally free to exercise again and begin strengthening the muscles that were stretched over my restructured frame. But the exercise is excruciating. It is one of the most difficult things I've done. My first session with my trainer resulted in a pulled muscle in my back. This week, I sustained another injury. This will be a long and painful process.
Honestly, as I've nursed the latest injury, I've thought how much easier it would be to stay bound by my physical limitations. After all, I'm okay. I can walk., sort of. Sure, I'm overweight and out of shape. I tire easily. I'm weak. And many of the things demanded of me are challenging and painful–traipsing through an airport, lugging baggage, walking the floor of a convention center–all things I need to do in the week ahead. But freedom? the price feels so high.
What personal freedom do you long to attain? What's the cost? Are you, like me, struggling?
Let's remember that Christ's power is made perfect in our weakness (2 Corinthians 12:10).
Maybe the most important question is what will you miss, what will I miss, by remaining bound? What is the cost of staying stuck in painful memories? What is the price of remaining in an abusive marriage? Or of remaining enslaved to food? Or alcohol? Or shopping?
I hope you'll share your thoughts and encourage one another.